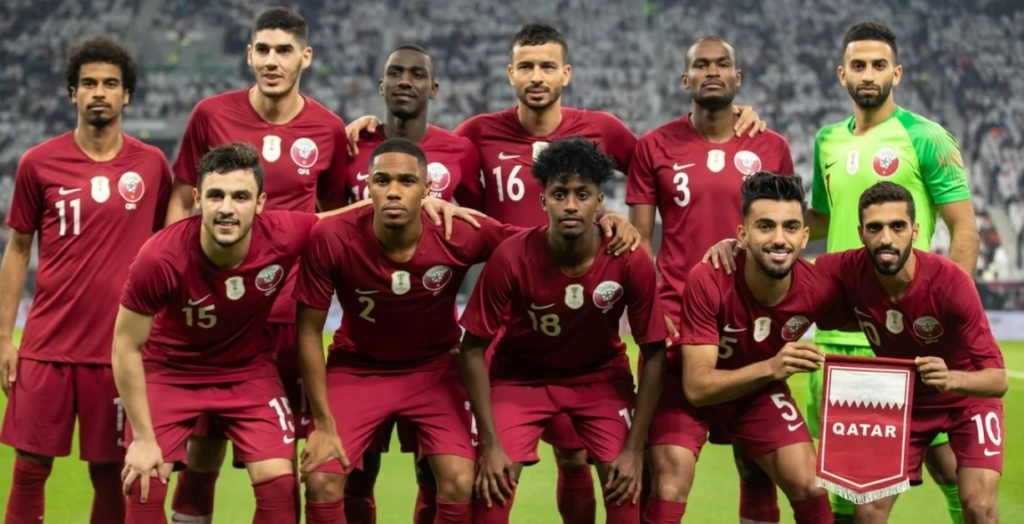 Qatar will soon be competing in their first-ever World Cup, but that does not mean the hosts will settle for the title of honourary participants. Al Annabi have been preparing themselves for this moment ever since their successful bid back in 2010.
Indeed, current head coach Felix Sanchez began his Qatari journey back in 2006 when he joined Aspire Academy, a renowned sporting institution that has produced some of the most country's most successful first-team players.
Spaniard Sanchez then followed the academy graduates on their journey, coaching them first in the Qatar youth teams and then the Olympic squad before finally taking over the senior side in 2017. This group of players is considered to be one of Al Annabi's strongest ever.
Sanchez has so far won two titles with Qatar, the first coming in the 2014 AFC U-19 Championship and then with the first team in the 2019 AFC Asian Cup. Can he replicate such achievements on the greatest stage this winter with this group of Qatari stars? Only time will tell.
SAAD AL SHEEB
Position: Goalkeeper
Age: 32
Saad Al Sheeb has long since dreamed of donning the number 1 shirt for Qatar at a home World Cup. In his interview with Al-Jazeera back in 2019, he said: "At present, my only dream is to represent Qatar at the 2022 World Cup."
The Al Sadd SC goal-stopper has been a mainstay of Qatar's national team since his debut back in 2009. Al Sheeb was vital in Al Sadd's back-to-back title triumphs in the Qatar Stars League over the past two seasons and on top of that, the player has earned more than 75 international caps. The keeper has also featured in major international tournaments such as the Asian Cup, Copa America, and the Concacaf Gold Cup.
Awarded the honour of Best Goalkeeper at the 2019 Asian Cup, he only conceded one goal throughout that tournament thanks to his quick reaction time and ability to snuff out counterattacks. He will no doubt play a pivotal role at Qatar 2022, and stern tests surely lie ahead, as he is tasked with nullifying the likes of Sadio Mane, Memphis Depay, and Frenkie de Jong.
Al Sheeb still has to earn his place in the starting lineup though, considering the brilliant displays by Meshaal Barsham at the 2021 Arab Cup.
ABDELKARIM HASSAN
Position: Left-back
Age: 28
"The Gunner" and "the Flamethrower" are just two of the nicknames for Hassan – the third most-capped international player for Qatar with 120 games to his name. Hassan has been the first choice left back for Al Annabi for many a year and his influence is unparalleled.
The current Al Sadd SC star had a brief stint in Belgium several years ago and is expected to be one of the most influential players for Qatar this winter. He is blessed with speed, gifted technical and dribbling ability, and a rocket of a shot, epitomised by his thundering goal against Yemen in the 2019 Gulf Cup.
Abdul Karim Hassan's influence will be substantial given his wealth of international experience in major tournaments. It will come as no surprise if he is one of the standout performers for the hosts.
With Al Sadd's coach tweaking their formation last season to play three at the back as well as the emergence of the brilliant young Hammam Al Amin at left-back, some thought Hassan's demise was imminent. Quite the opposite. He has successfully adapted to the new position and offers Felix Sanchez a newfound versatility and flexibility at the back.
HASSAN AL-HAYDOS
Position: Forward
Age: 31
Playmaker Al Haydos, who can also drop into central midfield and on the right wing, was one of Qatar's star performers during their 2019 Asian Cup triumph and has matured at Al Sadd under the tutelage of Jafal Rashed Al Kuwari. He will no doubt be one of the shining lights for Al Annabi this winter due to his unquestionable technical ability.
His personality on the pitch has shone consistently throughout his career. Whether it be his late winning goal against Japan in the 2008 Olympic qualifiers, or his famous penalty shootout heroics for his club against Jeonbuk Hyundai Motors in 2011, he has shown character in abundance.
With 158 games under his belt, Al Haydos is the all-time most-capped Qatari international. It can be argued that he is among the most influential players in the team, having contributed to a total of 38 goals during his time with Al Annabi. Despite not having quite replicated his blistering goalscoring form at Al Sadd from 2018 and 2019, he has compensated with increased defensive output and now drops deeper to help out. This has been particularly evident in the last two seasons as Al Sadd have adopted a new system of three at the back.
Al Haydos was called up to the international scene some 14 years ago, making him the most experienced player in the squad. This experience will be priceless when faced with the formidable defences of the Netherlands, Senegal, and Ecuador.
AKRAM AFIF
Position: Forward Age: 25
Just like his father, Afif is a versatile player who plays on both the left and right-wing, as well as sometimes even spearheading the attack. Afif also has wide-ranging experience playing in Europe after his stint with Belgium's OH Leuven, and several Spanish teams. He currently turns out for Al Sadd, where he has stamped his influence on the league. Despite a slight dip in form since April, he was still voted best player in the Qatar Stars League.
Afif finished the 2019-20 season with 15 goals, making him the top scorer in the QSL. As well as his goalscoring prowess, he has both the technical ability and vision to create numerous chances. He has a long pass in his locker that can split defences and he often lifts balls into dangerous areas, not to mention making regular efforts on goal.
All this attacking talent has Al Annabi fans dreaming of a strong World Cup campaign. Afif has also been shortlisted as AFC best player three times, winning the coveted award in 2019. Since then, he has been a vital cog for Al Annabi and is indispensable, even after his recent dip in form, and featured in all Qatar's latest friendlies.
ALMOEZ ALI
Position: Striker
Age: 25
The current Al-Duhail SC star was Al Annabi's top scorer in both the 2021 Gold Cup and the 2019 Asian Cup, registering nine goals and four goals respectively. He is the only player in the world who has scored in three different continental championships, and is currently Qatar's third-highest all-time goal scorer, having registered 39 goals to date – close on the heels of all-time top scorer Mansour Muftah, who has 44 goals to his name.
This winter, Qatari fans will be heavily relying on outstanding individual performances from him as well as his ability to cash in on half-chances to help their team's bid to qualify for the Round of 16.
Although his last goal for Qatar came towards the end of 2021, Ali can convert an opportunity in the blink of an eye thanks to his quick feet and intelligence of movement inside the penalty area. All these skills were on show in the 2019 Asian Cup final, when he scored with a stunning scissor kick. In his last major international tournament, the Concacaf Gold Cup, where Qatar reached the semifinal, Ali took home the golden boot.
Domestically, he proves his goalscoring worth at Al Duhail SC season after season. During the last campaign, Ali recorded his second-best goal tally relative to the number of matches played. Underestimate this marksman at your peril.
[Source: MyJoyOnline.com]
Liked this Article? You can share with others via various social media platforms. Got some information to share with us?
Send us your articles or advertisements enquiries via [email protected]