Ghana News
Don't set people up; catch those who commit actual crimes – IEA's Kwakye tells Anas
Investigative journalist Anas Aremeyaw Anas has received a warning from Dr. John Kwakye, director of research at the Institute of Economic Affairs (IEA), not to set people up to commit crimes.
According to Dr. Kwakye, encouraging others to commit crimes is wrong and should be outlawed.
His remarks follow Anas' declaration that he would publish a documentary on corruption in Ghana before the general elections in 2024.
This exposé, according to Anas, will rock the nation's foundation.
In response to inquiries about whether Anas was a "terrorist," as previously claimed by a High Court judge, he said these.
Looking To build a high-standard website or web application? We provide top-notch website and software development services. Call/Whatsapp us at 0545 064 096 for your business websites, e-commerce websites, CRM Software, ERP Software, POS Software, and many more!
Anas discussed corruption in Africa and defended his techniques.
"The work I am doing now might be the last before the [2024] elections," he stated. However, I can already see very distinct indications that the ground will tremble once more.
There are a few international ones that will soon be available. But with this one, speaking to you as a Ghanaian, I mean, Ghana's whole foundation will be disturbed," he allegedly stated.
Dr. Kwakye responded to this in a tweet by writing, "If Anas isn't interested in profiting from the elections, he should wait to publish his documentary after not before.
Anas shouldn't believe he can hold the entire nation hostage. In this world, nobody is flawless. He is not an angel in himself. Anas ought to pursue those who actually commit crimes. He shouldn't encourage criminal activity in others. That should be condemned because it is unacceptable.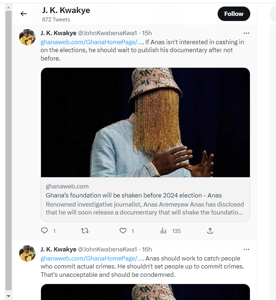 Source: Mynewsghana.com
Like this Article? You can share with others via various social media platforms. Got some information to share with us?
Send us your news, opinions, advertisements or general inquiries via [email protected]