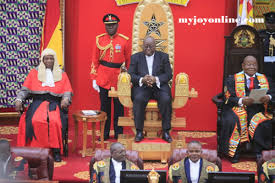 President Akufo-Addo sitting in state at the Parliament House.
I mentioned City Express, Green Line, King of Kings and Omni Bus Services Authority (OSA) as some of the public transport operators of yore in my last article.
I remember that during those good old days, children were conscientised to show utmost respect to the elderly- whether strangers, familiar or familial persons. On those buses, the convention was for children to rise and offer their seats to the elderly when the need arose.
In most homes children were required, as a common practice, to put their hands behind them when they addressed the elderly. It was also a mark of respect to precede every statement addressed to an elderly person with the word 'please' and end with 'thank you', especially when one received a gift or favour. In addition, it was required of a child to greet any elderly person he or she came across in public.
Failure to exhibit any of the above-listed virtues attracted at least, a reprimand. Caning and slapping were the extreme forms of punishment that awaited any non-conformist child. My late father, G.A. Mensah would yell, how dare you?!!! before adding a few knocks on your head whenever we did contrary to his dictates.
This was the status quo before the spread of modernity and civilization- They changed everything. But old habits, they say, die hard. So, I have observed that a few parents have continued to inculcate this culture in their offspring whereas most have discarded it. Their reason is that such nurturing makes children timid. In other words, children who are brought up in the manner we were taught are made to feel intimidated.
This is just by the way. At the Multimedia Group where I work, it is part of the culture to address ourselves by the first name. However, while some of my younger colleagues freely call me Eric, others say Uncle Eric, Sir Eric. And the misnomer- Mr. Eric.  You can make your own deductions.
Current trends
In place of the aforementioned way of child upbringing, there is now a resort to putting fear into children as regards how they should relate with persons, especially the elderly, who they do not know from Adam. "Don't accept gifts from strangers", "when you see strangers, don't look them in the face," "when a stranger calls you, run."
I do not begrudge parents who indoctrinate their children in the manner as to not 'give a damn' to strangers. That's because times have changed. And the strangers of yesteryear were not as harmful as those of today. Indeed, today's strangers are fond of strange things. Even familiar and familial persons such as neighbours, uncles and cousins are occasionally reported to have raped teenage girls and even babies.
That a Pastor and Chief could put their heads together to kill a prospective nurse who was directed to them for help is enough justification for parents, like the hen does to the chicks against the hawk, to protect their children against unknown persons.  
In western countries such as the UK and the US, I hear they have gone a notch higher in empowering their children. From what I am told, it is a security risk for a parent to spank a child. If you dare, they dial 911 and the Police will came after you.
Consequently, I saw a video the other day in which a distraught US-based Ghanaian parent was assessing the damage caused, by her 12-year old son, to their home. The boy is reported, in the video, to have destroyed everything in the house- from items in the living room to the water closet. Why? Because his mum took his phone from him for not going by some stated instructions.
How dare you do this to Auntie Akaawa, my mum? Actually, fear of the consequences that awaited you would dissuade you from that line of thinking. One of her favourite punishments was to deny you supper. The trick is that you would have gone playing 'tsaskele', 'tumatu', gutter to gutter or 'ampe' after lunch and will be famishing by sunset. When this weapon is used, all you are able to do is weep till you fall asleep.
Unintended consequences of the current trends
In our quest to produce security-conscious and unintimidated children, we seem to have thrown away the baby with the bath water. 
The resultant effect is that today's children have no regard for the elderly. For instance, in the wake of the recent challenges with ECG credit vending system, I saw some elderly women in the long winding queues. The question that came to mind was, could they not have sent any child in the vicinity to buy the credit for them? Better still, could the younger persons in the queues not have made a case for the old ladies to be given priority service?
While these questions plagued my mind, I remembered a scene at one of the ECG vending stations involving myself. That was even before the crisis. I went to my usual place and met an unusual queue mostly made up of younger persons. Knowing what I know, I greeted and joined the line. After serving two customers the vender, an elderly man, proclaimed that he wanted to serve me before reverting to the queue. He obviously gave regard to my shiny grey beard.
I was taken aback by his gesture so I did a quick body language check on those before me. I saw a mixture of approval and disapproval of the declaration. Therefore, I said 'Medamoase'-Thanks, to assuage the feelings of those who may have been hurt. Guess what? My gesture of appreciation was received with a few muted responses.
The polyglot in me
I love learning languages. One of my greatest regrets so far is not pursuing a formal study of the French language. Who knows? It may happen before it is all over.
I am Ga but I believe I speak fluent Twi, above average Fante and Hausa as well as below average Ewe. I can try a very basic conversation in French and utter a few Spanish words and phrases.
Besides Ga and English, I can write some Twi. In fact, growing up, I took a special interest in the Twi language such that I even learned some proverbs. My favourites are; 'Bankye yɛa, eyɛ egya na ekyerɛ' and 'atete ena yɛɛ pam, enyɛ saa, anka enyɛ brodiɛ afediɛ ne koobi sen.'
The meaning of the first one is simple- 'if the cassava is good, it is fire that will prove its goodness. I guess the English equivalent is, the proof of the pudding is in the eating.
The literal translation of my second favoured proverb is that, 'it is because things (clothes) are torn and everybody is helping to sew, otherwise the plantain cannot claim equality with the salted fish.'
I do not know the etymology of this proverb, but from casual observation, I have realized that among the Akans, plantain is one of the staple foods. It is eaten with kontonmere stew (Brodiɛ ampesi) or pounded into fufu (Brodiɛ fufuo) or serves as a 'condiment' in a bankye (cassava-based) fufu that is served with soup- Light, palmnut, groundnut or Abɛ-nkatie-Nkonto.
In a typical Akan's stew or soup that goes with the plantain-based dish, salted fish (Koobi) is almost always a constant. So, I guess it is the substitutability of the plantain with cassava or yam in some instances that makes it less equal to the salted fish.
The actual meaning of the proverb, however, is that but for certain prevailing circumstances, persons who are nonentities, would have no reason to criticise others.  Stated differently, if you are a father and your children consider your efforts towards their upkeep as below expectation, they are less likely to accord you the needed respect. Actually, they treat you as an equal and defy your orders, even in public. In the worst case scenario, they boo you.
Why they dared to boo our President
On Saturday, September 24, 2022, artistes from all over the world converged in Accra for this year's edition of the Global Citizen Festival.
The primarily youth-targeted event took place at the Black Star Square. Patrons were left in absolute awe at the concert which featured some of Ghana's A-list artistes- Stonebwoy, Sarkodie, Gyakie etc.
According to the running order, President Akufo-Addo was billed to address the gathering at some point. He did. Except that the aftermath or is it 'intra-math' of his speech has left a sore taste in the mouth of many right thinking Ghanaians.
The youth dared to boo our President. Hold on. The Deputy Minister of Tourism, Arts and Culture, Mr. Mark Okraku Mantey, the renowned judge on TV3's Mentor reality show, said they rather cheered him. The Deputy Director of Communication of NPP, Ernest Owusu Bempah contradicted Mark. Ernest explained that it was only ten NDC supporters who booed the President.
Well, I saw and heard on TV3 the trademark booing act of "clap, clap, clap away!!!" And whether it was by one or ten persons, for me, is bad enough. The MP for Adansi Asokwa, Mr. K.T. Hammond, agrees with me. He described the behaviour of the youth as unprecedented and urged them not to repeat it.
However, knowing the youth of today, once they have mustered courage to start, they are very likely to do it again. I say so with all certainty because from the little I know, the youth are not happy with President Akufo-Addo at all.
Therefore, anytime he has to address any such gathering of non-party youth, I suggest that his Director of Communication, Mr. Eugene Arhin should assess the possible facilitating and militating factors. If this had been done in the instance of the Global Citizen Festival, the booing incident would have been predicted and averted.  In the President's stead, the Minister of Youth and Sports or the head of the National Youth Authority could have been made to deputize. Alternatively, the President could have recorded his speech for playback at the event.
For those who would like to know, I have posited that the youth are not happy with our President because from where I sit, it seems the ramifications of my two favourite Twi proverbs aforementioned are at play:
The proof of the pudding is in the eating
President Akufo-Addo was welcomed to the presidential seat with so much expectation. An anticipation that was engendered by the sumptuous pudding he promised while campaigning for the post. Some of these undertakings such as the Free Senior High School (FSHS) policy he has fulfilled to the dissatisfaction of many. A significant number of the policies are, however, yet to see the light of day.
Consequently, the youth who hooted at him at the black star square may have lost hope in him to the extent that they deemed his presence at the event as an attempt to 'spoil the party'. Remember the concert was held against the background of disgruntled nurses and midwives trainees over non-posting, NABCo beneficiaries uncertain of future job prospects, the GHC559.00 paid to National Service persons has been devalued by the depreciated cedi- 'trotro' fares and prices of goods and services have sky rocketed and the YouStart programme is yet to start.
In the considered opinion of the youth, President Akufo-Addo's cassava has failed the fire test woefully. The irony though is that considering the fact that the FSHS policy is in its 5th year, some of the youth present at that event may be benefitiaries.
But for certain prevailing circumstances, persons who are nonentities, would have no reason to criticise others
Ghana Connect is one of Joy FM's programmes that empanels people from within and outside the country to discuss issues of national importance. It is aired on Fridays at 6:00pm.
On Friday September 30, the 5 panelists hosted by the fast rising Kwaku Asante discussed the presidential booing incident.
The contributions of two of the discussants on the show bore true witness to my views expressed above. They are both females. The first lady was introduced as a student at the Ghana Institute of Journalism and a Muslim. The Second lady's name was given as Felicity.
I have a few Ewe friends named Felicity. Somehow, it has never crossed my mind to find out the meaning of the name. However, after listening to this Felicity on the show, I googled the name. There is something in a name you know! I found two meanings. One- intense happiness. Two – the ability to find appropriate expression for one's thoughts.
The second definition, coupled with her no holds barred contribution on the programme made me put things in perspective. Plus, she spoke in a foreign accent. Whether it is a Locally Acquired Foreign Accent (LAFA) or properly acquired is another matter.
What I gleaned from that though, is that she may have been exposed to the foreign culture that does not give a hoot to elderliness. That's because, among others, she said boldly that she was one of those who booed the President and did not see anything wrong with that. Her justification was that President Akufo-Addo has failed miserably in the execution of his duties as the head of the Executive arm of Government.
In contrast, the Muslim lady was very equivocal in her comments. While she stated that the justification for the booing was justified, she could not bring herself to accept that the youth booed at the President because of that. Why? "Because President Akufo-Addo is an elderly person," she explained.
It's time to go
In a nut shell. It seems to me that we have allowed civilization and modernity to move us away gradually from our cherished invaluable traditions.
In addition to abandoning the kind of upbringing we had before the advent of globalization that I alluded to earlier, there are some Ghanaians who have discarded the traditional way of naming children according to the days on which they were born (Kwasi, Kwadwo, Kwabena, Kwaku etc) or in accordance with the sequence by which they were welcomed into this world (Baako, Manu, Mensah, Annan, Anum or Tettey, Tetteh, Mensah etc).
In place of this practice, we have named our young ones with foreign names. Some even consider speaking any local language with their children as an abomination. Indeed, the nature and scope of nurturing our children has changed drastically.
This cultural revolution is happening in Ghana, where things have fallen apart due to the Russia-Ukraine war and the COVID -19 pandemic-according to our President. The reason for which some of our youth said they jeered at him.
But for that, I would have asked, how dare you boo our President? Because I know that if I do, Felicity and her allies will come after me. Therefore, I end on the note of 'atete ena yɛɛ pam, enyɛ saa, anka enyɛ brodiɛ afediɛ ne koobi sen.'
Namaste – That's goodbye in Hindi.
Let God lead! Follow Him directly, not through any human.
The writer works at Myjoyonline.com. He is also the author of two books whose contents share knowledge on how anyone desirous of writing like him can do so. Eric can be reached via email [email protected]. The two books cost GHC80.00.
Tags:  
[Source: MyJoyOnline.com]
Liked this Article? You can share with others via various social media platforms. Got some information to share with us?
Send us your articles or advertisements enquiries via [email protected]