Education
Ghana Education Service makes U-turn; suspends tug of war, pillow fight in schools
This was after the Ghana Tug of War and Pillow Fight Federation wrote to the GES requesting official approval for the games at the pre-tertiary level.
However, the educational institution has now rescinded its decision by suspending its approval of tug of war and pillow fight in schools.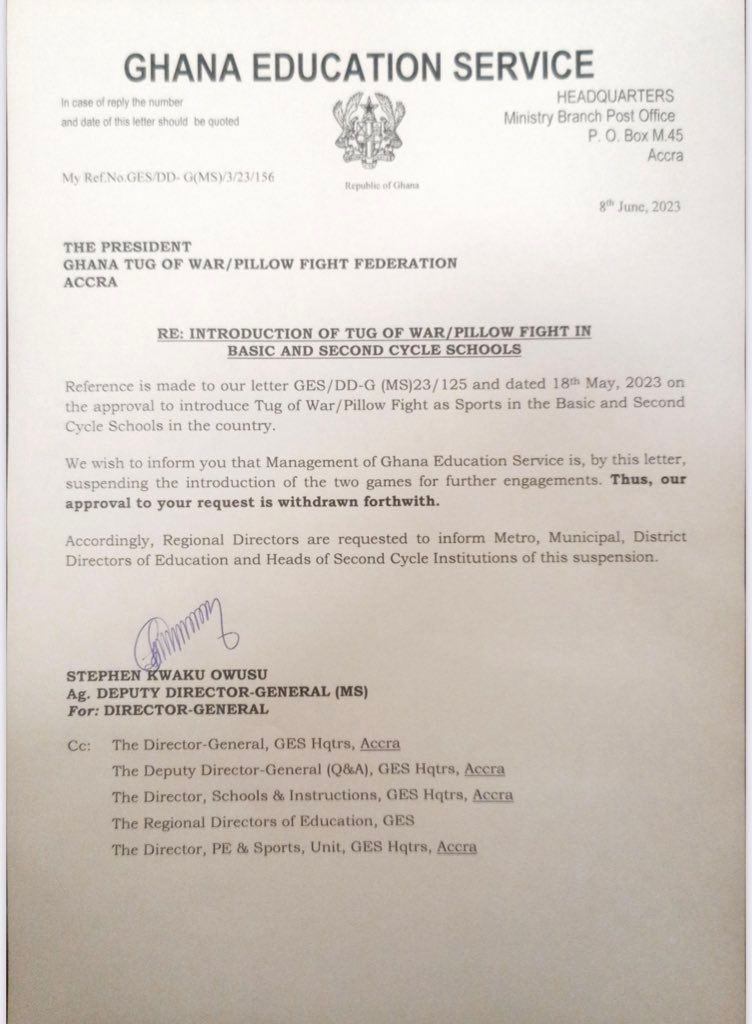 A statement signed by the Acting Deputy Director-General of GES, Stephen Kwaku Owusu, said the two games have been suspended for further engagement to be held with stakeholders.
Looking To build a high-standard website or web application? We provide top-notch website and software development services. Call/Whatsapp us at 0545 064 096 for your business websites, e-commerce websites, CRM Software, ERP Software, POS Software, and many more!
"Reference is made to our letter GES /DD-G (MS)23/125 and dated 18th May 2023 on the approval to introduce Tug of War/Pillow Fight as Sports in the Basic and Second Cycle Schools in the country," the statement read.
"We wish to inform you that Management of Ghana Education Service is, by this letter, suspending the introduction of the two games for further engagements. Thus, our approval to your request is withdrawn forthwith
"Accordingly, Regional Directors are requested to inform Metro, Municipal, District Directors of Education and Heads of Second Cycle Institutions of this suspension."
It remains to be seen whether the GES will reintroduce the two games after its stakeholder engagements.
Like this Article? You can share with others via various social media platforms. Got some information to share with us?
Send us your news, opinions, advertisements or general inquiries via [email protected]