Dr. Amishaddai Owusu-Amoah delivering a speech at a seminar
Government bagged 51.58 billion in revenue in the nine months of this year, missing the target by
This is against a target 52.04 billion, and about 0.89% drop.
However, the performance represents a nominal growth of 29% over the same period in 2021.
In a tweet, the Ghana Revenue Authority (GRA) said domestic revenue grew by 28.6%.
At the same time customs revenue grew nominally by 29.8%.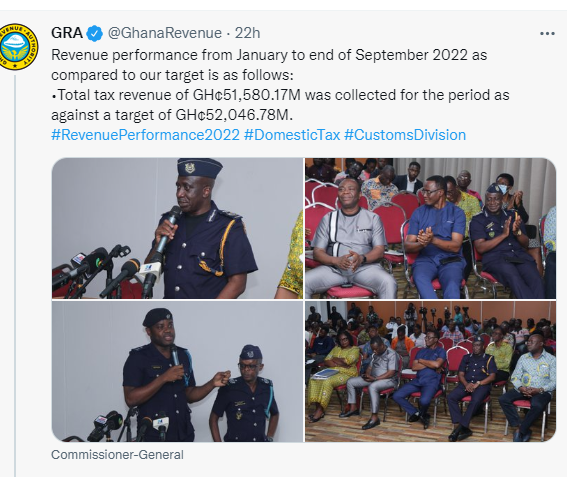 It is expected that government will accrue more revenue in the third quarter of 2022 because historically revenue mobilisation goes up in the last quarter of every year.
Government targeted ¢96.842 billion from total revenue and grant in 2022, but about ¢88 billion from revenue
E-Levy rakes in 328m since implementation in May
Meanwhile, government earned ¢328 million from the Electronic Transaction Levy (E-Levy) at the end of the third quarter of this year.
According to the GRA, it recorded 20% month-on-month improvement in the collection of the levy since its implementation in May 2022.

"We commenced the implementation of this levy in May 2022. Revenue from E-levy as at September 2022 amounted to GHS328.80m", it said in a tweet.
"It is worth mentioning that on month-on-month basis we continue to see a 20% improvement in collection of the levy. It is therefore our expectation that this will continue and improve domestic revenue generation to support government expenditure", the Commissioner-General, Dr. Amishaddai Owusu-Amoah disclosed.   
Meanwhile, the GRA says it has automated the process of obtaining Tax Clearing Certificates (TCCs), and therefore tax payers can now apply for TCCS electronically via the Taxpayers portal.
Again, it has also acquired a USS code that will allow every Ghanaian to check on their tax compliance status. This tax code the GRA said will be made public soon.
[Source: MyJoyOnline.com]
Liked this Article? You can share with others via various social media platforms. Got some information to share with us?
Send us your articles or advertisements enquiries via [email protected]