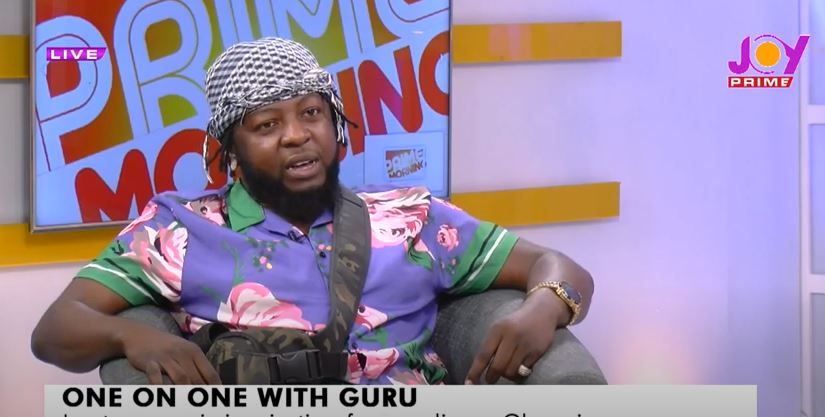 Ghanaian rapper, Maradona Yeboah Adjei, known in showbiz as Guru, says that he is yet to achieve five percent of his goals.
Speaking to Ib Ben-Bako on Prime Morning on Friday, the rapper indicated that he has a target to meet in his music career. He believes making a controversial hit song is a part of the reason he is not moving forward.
"I've not even made five percent of that. I came out on a very huge controversial song and that has really affected me so much," he said.
The "Lapaz Toyota" hitmaker is still persistent in doing controversial songs, believing that it is about creativity and talent.
Also, Guru stated that the majority of Ghanaian music industry players become emotional in the performance of their duties.
According to him, the music careers of most upcoming artistes have not been well established due to the emotional nature of the industry players.
"Sometimes we intend to switch you for no reason, depending on emotions, and we act too much based on emotions. So if you're not mentally strong, they'll cut you off," he stated.
In addition, he said, "For example, most of these young acts are doing good. Somebody will sit somewhere and just be pissed off, all because he invited the reigning act to be on his platform and he did not show up. So emotions are kind of draining our system."
However, the determined "Amen" hitmaker refuses to be trained by people's emotions, saying that one can never be satisfied with what the industry provides.
Guru believes the music industry has emotional problems with him, but he has no problem with the industry.
He is of the opinion that there has not been any improvement within the entertainment industry.
Meanwhile, the rapper has released a new single titled, "Enko Yie." The song, he said, is an inspiration for the pressures of life he is dealing with.
[Source: MyJoyOnline.com]
Liked this Article? You can share with others via various social media platforms. Got some information to share with us?
Send us your articles or advertisements enquiries via [email protected]