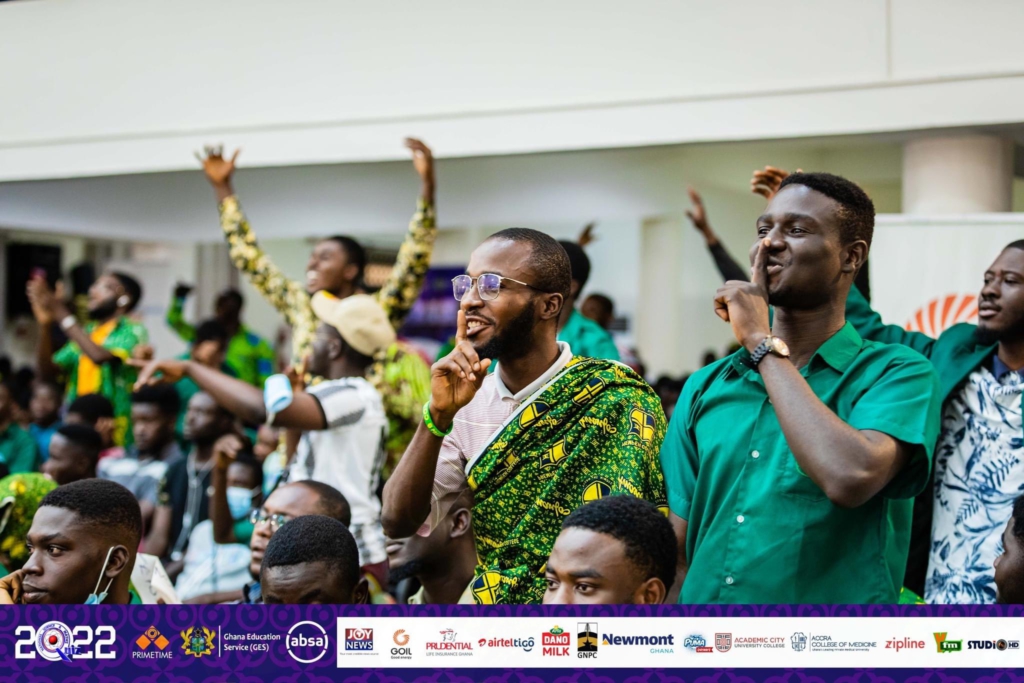 Prempeh College stopped a last-minute attempt from Presby SHS, Aburi to cause an upset in their quarterfinal clash of the ongoing National Science and Maths Quiz (NSMQ).
The defending champions have now progressed to the semi-final stage of the competition — knocking out Volta heavyweights Mawuli School and Presby SHS in the process.
The Kumasi-based five-time champions faced an uphill task right from Round One, ending the contest opening round behind the underdog, Presby SHS.
End of Round 1:

Aburi Presby SHTS: 24pts
Prempeh College: 19pts
Mawuli School: 18pts#NSMQ2022 #NSMQQuarters #Primetime #AbsaMoneyZone pic.twitter.com/Juy9Mf5hJW

— NSMQ Ghana (@NSMQGhana) October 19, 2022
They however picked up pace in the subsequent rounds and kept their lead intact until the end of the contest.
End of Contest:

Prempeh College: 47pts
Aburi Presby SHTS: 41pts
Mawuli School: 32pts #NSMQ2022 #NSMQQuarters #Primetime https://t.co/Volb3LPk8O pic.twitter.com/fdX0c7vEkw

— NSMQ Ghana (@NSMQGhana) October 19, 2022
A scare came in the last round where Presby SHS threatened to push the contest to be decided by a tie-breaker, but Prempeh College showed character and quenched the challenger's fire by picking up one of four riddles which went simultaneously to all teams.
Despite Presby SHS picking the other three riddles, the interjecting by Prempeh College put the contest mathematically beyond the challengers even before it was over.
Prempeh! Third riddle goes to Sofoline! #NSMQ2022 #NSMQQuarters #Primetime

— NSMQ Ghana (@NSMQGhana) October 19, 2022
Mawuli School surprisingly failed to turn up today and are also eliminated after finishing last. But they are seeded, thus will start the 2023 tournament from the knockout stages.
The 2022 National Science & Maths Quiz is produced by Primetime Limited and sponsored by the Ghana Education Service in partnership with Absa Ghana and supported by GOIL, Prudential Life Insurance, AirtelTigo, Dano Milk, Newmont, GNPC, Accra College of Medicine, Academic City University College and Y FM.
The broadcast of the National Science & Maths Quiz on JoyNews is supported by Virtual Infosec Africa, Virtual Security Africa, Vita Milk, Cowbell, Alumni by Enterprise Life, Fay Toilet Roll, Ace Medical Insurance, Azar Group, Kings Group Limited, Family Health Medical School, DBS, ZnZ, The Barstow School, KORBA and Pharmatrust Limited.



[Source: MyJoyOnline.com]
Liked this Article? You can share with others via various social media platforms. Got some information to share with us?
Send us your articles or advertisements enquiries via [email protected]